Here is a summary of the steps on how to top-up MGC using M Lhuillier:
STEP 1: FIND THE NEAREST BRANCH
Visit your nearest M Lhuillier outlet branch before payment code expires. Tell the cashier that you will be making a Bills Payment(not a remittance).
Check this to find branches near you: branch locator.
STEP 2: ENTER YOUR PAYMENT DETAILS
You will be given a Bills Payment Slip to fill-up (see sample below).
Date: Date of payment
Payment to: DRAGONPAY
Account Name: Your Name
Account Number: Payment Code given by merchant
Contact number: Your mobile number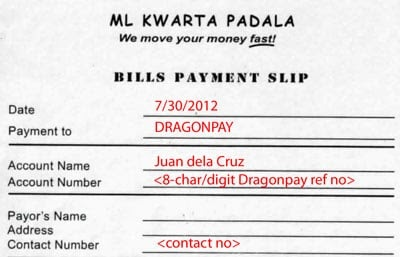 Give the filled out slip to the cashier with your cash payment.
STEP 3: COMPLETE YOUR TRANSACTION
Once you make your payment, you will receive a receipt as proof of payment.